GIS as a Service
The 1map Online GIS is a powerful online GIS and spatial data library that gives you access to the information and functionality you need, whenever and wherever you need it.
1map is a fully online tool, which means that all you need to access your information is a browser and an internet connection. Create an account today to find out why we are the undisputed industry leader in aggregating and disseminating spatial information in South Africa.
Erven Boundaries
1map maintains the most up to date third party SG Land Parcel database available, available in raw and enhanced formats.
SG Diagrams
View and download the latest official survey documents, either individually or in batch. Georeference on the fly to view diagrams as a transparent map overlay.
Upload Your Data
Interact with your own data in 1map, within the context of other data layers such as NGI Aerial imagery, topographic layers, Stats SA Census, etc.
Street Addresses
The 1map National Address Database is a reliable source of standardised, meticulously researched addresses for the entire country.
The latest data from the Surveyor General
1map hosts the latest SG land parcel data for the whole of South Africa. With our Deeds data integration, we classify each land parcel according to its legal status, i.e. Surveyed, Registered, Withdrawn, etc.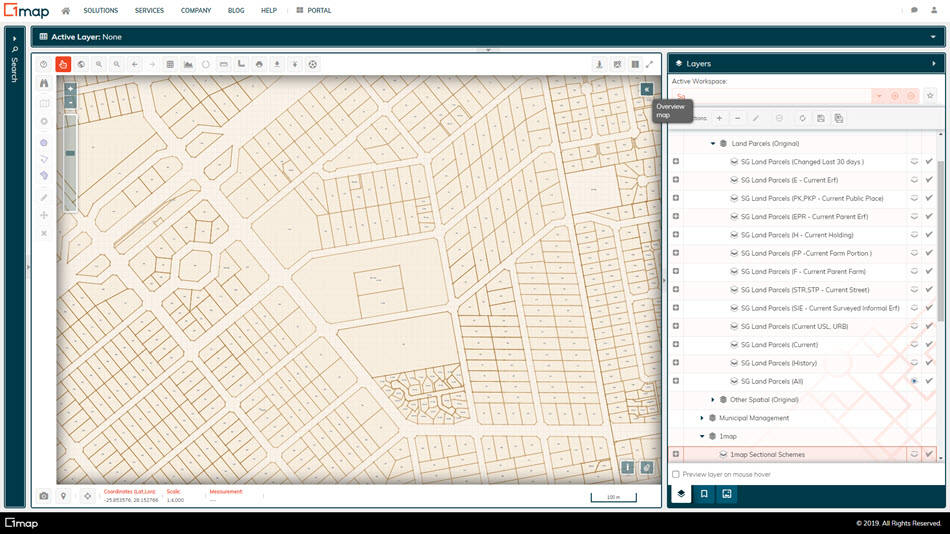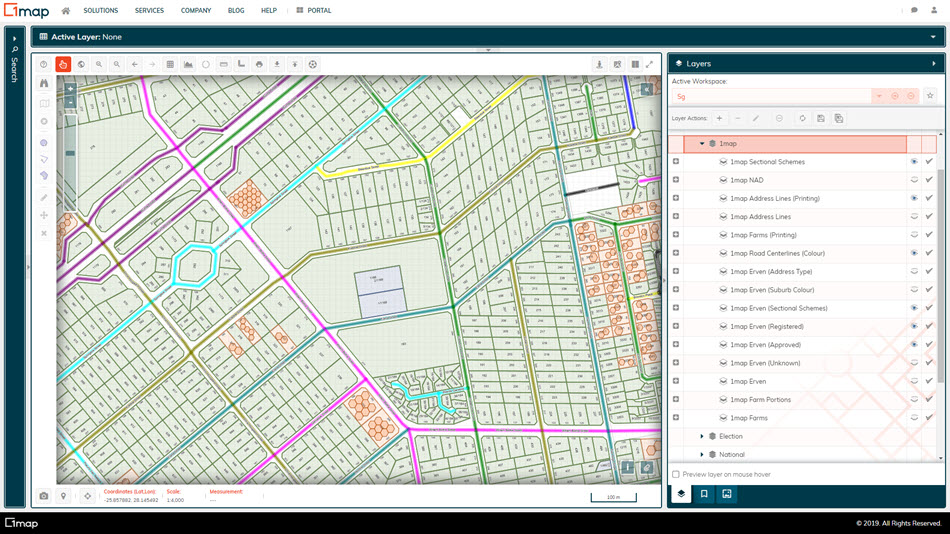 General Plans and Survey Diagrams
1map hosts all the SG plans and diagrams on our own servers, ensuring fast load times and 24/7 uptime.
Diagrams can be downloaded individually or in bulk, even as multi-page PDF documents.
Users can also georeference diagrams on the fly, and view the georeferenced diagram as a layer on the map.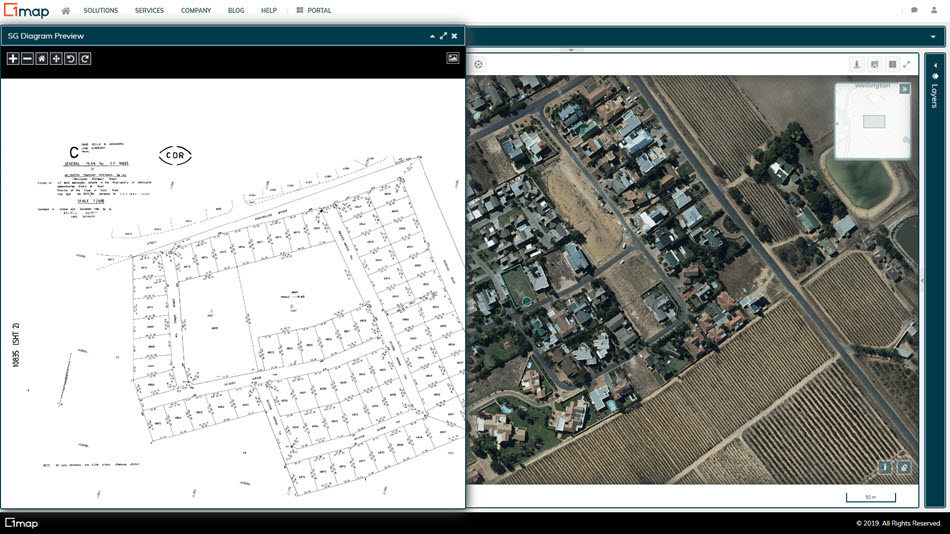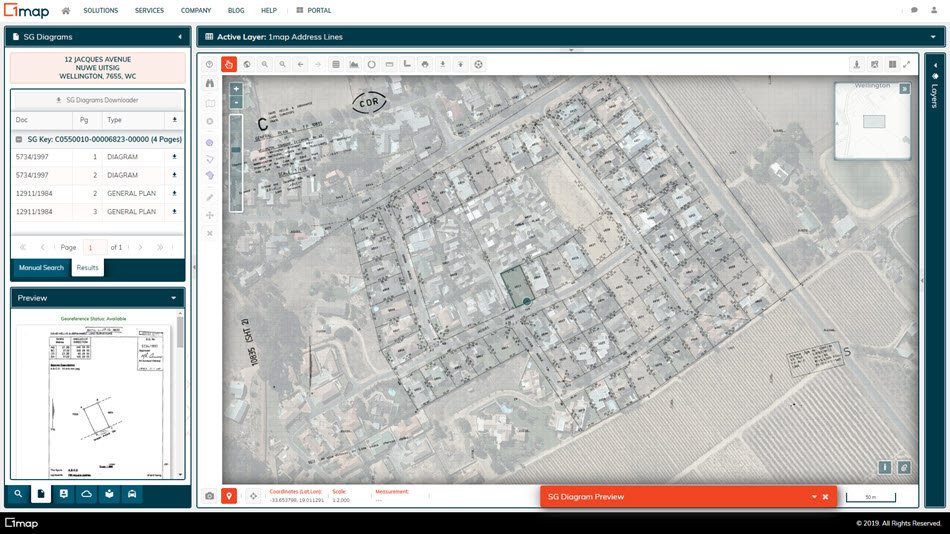 National aerial imagery
NGI&nbspaerial imagery is commissioned to be flown by the South African government, and is made freely available. Since 2017, all imagery is captured at 0.25mGSD, providing unprecedented detail and clarity.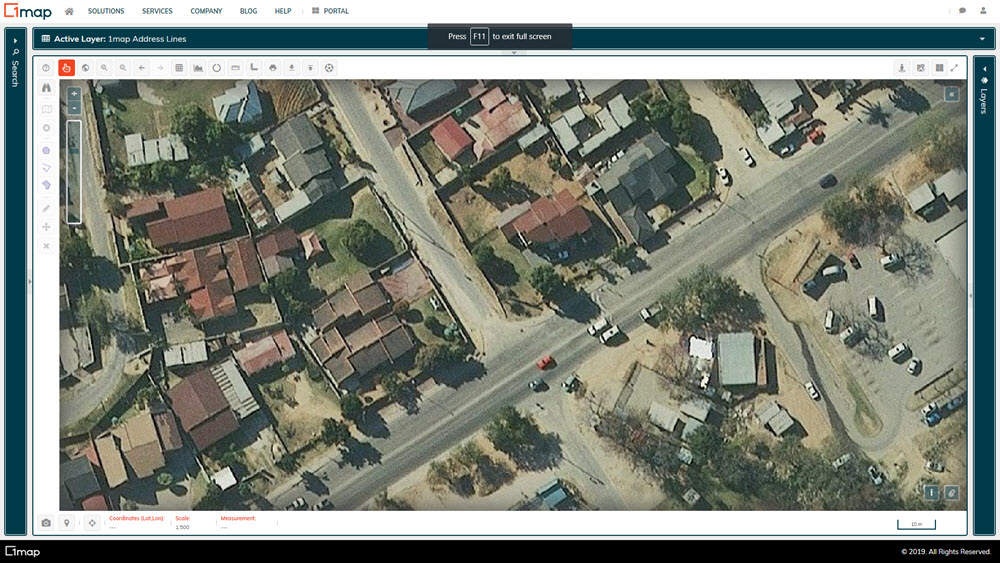 Roads and Addresses
The 1map National Address and Road Centrelines datasets have been compiled over decades, and have been meticulously researched to ensure reliability, completeness, and accuracy.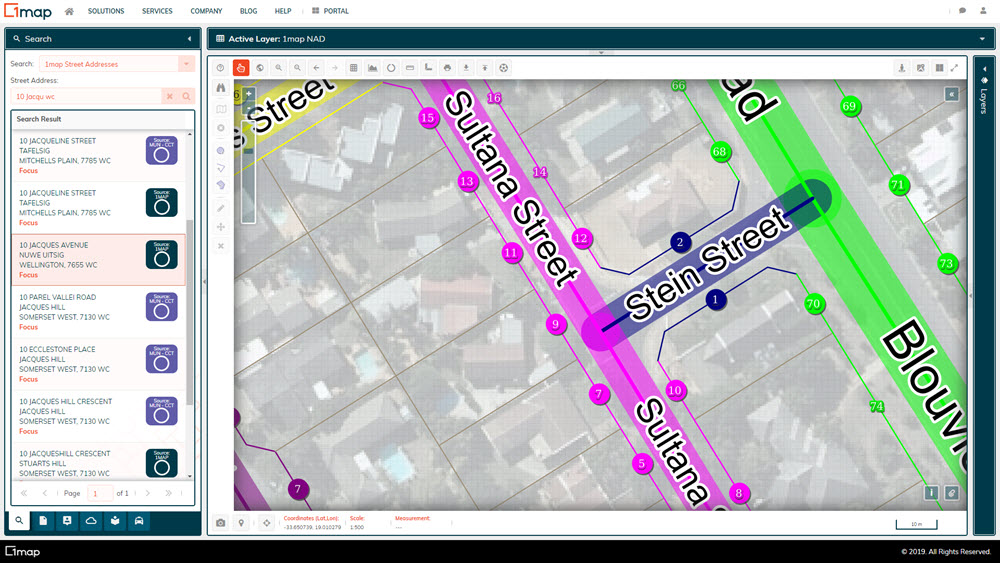 Interact with YOUR data
The 1map Online GIS not only allows you to view spatial data, but you can import your own data and interact with it online!
Do you have your own location-based data that you would like to interact with online and within the context of the bigger picture?
1map let's you upload your own data in a variety of spatial data formats, including Shapefile and CSV, so that you can view and manage your data as a layer directly in 1map.
If you have a dataset with records that have not been geocoded yet (i.e. linked to a coordinate on a map), you can upload your .CSV or spreadsheet and use 1map's Online Geocoder to interactively map your records, or you can contact us to find our more about our bulk geocoding services.
Not only can you view your data online, but you can edit the location of the object, its geometry, and the data attributes of each record, as well as setting filters and even custom styling. The user-friendly interface means that you don't have to be a GIS technician in order to interact with your spatial data.
When you need functionality that 1map does not provide, such as complex spatial analysis, excel reporting, graphic design, etc., you can export data in a variety of formats for use in nearly any other application that you need. From Shapefiles and .TAB files for desktop GIS suites, to .CSV and .XLS for spreadsheets, and .DXF for CAD and Illustrator - whatever you need, whenever you need it, however you need it!
To read more about what data is available for export, see our Data Catalogue.
There is nothing like a full colour A0 map to add something special to your office wall, or impress at an important presentation. Or maybe you need to give your field workers paper print-outs of their jobs so that they don't need to carry mobile devices. Even if you just want static maps to distribute via email - 1map has you covered!
You can generate PDF documents for print in any size from A4 to A0, in full colour. You can even generate multi-page mosaic documents to cover a large area. Click here to watch the tutorial video on generating PDF for printing.
1map has a range of useful tools embedded to help you quickly get the answers that you need from your data, from the measuring tools that let you measure the length of a multi-part line or the area of a polygon, to the radial count tool that lets you count the number of features within a circle. Then there are the filters that allow you to only view the records that fit certain SQL criteria, enabling you to zoom into specific records.
Subscription Plans
The basic 1map Online GIS is available free of charge to anyone who wants to use it. We also have a number of premium licences for professional users who need spatial data and functionality for their work.
The most popular choice for professionals
The majority of professional users who need access to data and GIS functionality would be best off with the 1map Pro licence. This allows you to access all the data you need (including diagrams), export vast amounts, and even import your own custom layers.
---
24 hour updated cadastre with stand numbers
Access SG Diagrams
Export to Shape, Excel, CSV, etc.
Print A0, full colour
Import & edit your own layers


Priority support
If you need greater export or import volumes , have a look at our other subscription options.
If you are a full-time academic or student, contact us for a free academic account.
Read our Terms of Use for more information on our different licences.